Before we dive into the rooftop unit maintenance checks, you should be performing on your units, lets cover the basics. We will talk through how a rooftop unit works, and its main components. Then we will discuss the maintenance that needs to be performed on each unit.

What Is A Rooftop Unit?
A rooftop unit is a package unit that is located on the rooftop (go figure). They provide conditioned air for a facility and push it through the facility using ductwork. These units are self-contained, meaning they have everything they need to condition air located inside of them.
What Are The Main Components Of A Rooftop Unit?
Dampers
These are set at specific positions to either allow more or less airflow into the unit. These can be manual or modulating depending on the manufacturer.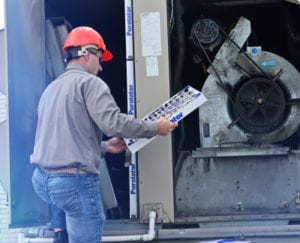 Filters
These help to filter the air before it enters the system. The size of the unit, frequency of use and outdoor conditions will determine how frequently these filters should be changed.
Coils
This can be a cooling coil, a heating coil or both. As the air enters the unit, it is run over one of these coils. This conditions the air before it is brought into the building.
Heat Exchangers
These help to improve the efficiency of the unit. Heat exchangers allow for preheating or cooling of incoming outside air by running it in close proximity to conditioned exhaust air leaving the building.
Fan
Also known as an air blower, these are what pump the air through the ducting and into the facility. These are most commonly centrifugal fans.
These pump refrigerant through the coils to heat or cool the air. In some units, heating and cooling components are separate. Compressor and an AC cooling system are then used to cool coils. The heating component then produces heat through the use of electrical or gas.
Your Rooftop Unit Maintenance Checklist
Performing maintenance on your rooftop unit is important. Use these quarterly, and semi-annual and annul maintenance checks to ensure your unit is in good shape.
Semi Annual Maintenance Checks for RTU's:
Check power supply operation

Measure volts/amps of condenser fan motors

Check starters and contact surfaces 

Check operating temperatures

Examine refrigerant charge 

Check site-glasses 

Check all belts

Inspect all safety controls 

Check superheat and adjustment 

Check hot gas by-pass controls 

Inspect head pressure controls 

Check all operating controls 

Examine and tighten all electrical connections

Check compressor efficiency 

Check cap tubes/piping for chafing 

Look for oil/refrigerant leaks 

Check fan sheaves for alignment and wear

Check fan-bearing supports 

Examine motor supports 

Check motor hold-down bolts 

Check damper operations 

Inspect damper linkages 

Check damper motor 

Clear drainage of any blockages

Replace air filters (Quarterly)

Clean Coils (Annually)

Inspect Economizer (Annually)
Parts To Carry To Reduce RTU Breakdowns
Carrying back up parts in case of a breakdown is always a good idea. The last thing you want is to be with heat in the winter or cool air in the summer. But what parts should you consider carrying? We recommend:
Flame Sensors

Ignitors

Filters

Belts

Pressure Switches
We Can Help
Rooftop unit maintenance is important for a number of reasons. For one, because of the units remote location, on the roof, it can be harder to hear early warning signs of equipment issues. Let our expert technicians ensure your system is running efficiently. Give us a call at 1-800-237-3141 or email sales@rasmech.com. Our team is here to help! For all of your Commercial HVAC service needs this time of year, call the experts. Our HVAC services include repair, new installs, HVAC parts, HVAC rentals and more.