While boiler explosions are rare today, they happened much more frequently a hundred and fifty years ago. Thankfully in 1880 the American Society of Mechanical Engineers (ASME) was founded. Their goal was to design a rule book for safe boiler design and construction methods. ASME published the Boiler and Pressure Vessel Code (BPVC) in 1915. This became the basis for what we call "ASME Section I". Over100 countries around the world use ASME boiler code today. It is the go-to code for design, construction, operation, and inspection of boilers. 
What Causes Boiler Explosions?
When a boiler explodes it can send shock waves, extreme heat and multidirectional debris flying with tremendous force.  So, what causes a boiler to explode? There are two types of boiler explosions. One involves failure of the pressure vessel and the second results from improper fuel combustion.
Pressure Vessel Failure
Most often, rusting or overheating are what cause pressure vessel failure. Low water conditions or excessive scale can cause a boiler to over heat the steel. Broken safety valves and water hammer are other examples of how a vessel can become weakened. The issue arises when the pressure envelope of the boiler is compromised. This pressure change can allow water in a steam boiler operating at 100 PSIG to expand 1500 times its original volume. As you can imagine this puts off tremendous force and is why explosions can be so dangerous, not to mention HOT!
Fuel Combustion Explosion
This most often happens when the burner flame is out. Ignition failure, loose valves, and faulty gas lines can all allow for the buildup of combustion gas in a high temperature vessel.  This can cause not only a boiler explosion, but gasses can also leak throughout the facility. While the initial explosion is dangerous, this can also result in the rupturing of the pressure vessel. This can in turn create a second explosion that can be equally powerful.
Alternatively, failure to purge combustible gasses from the firebox before ignition can result in a similar situation.
Preventing A Boiler Explosion

Fighting boiler explosions involves a number of different methods, but can drastically reduce the risk. First, ensure all employees who operate the boiler are trained. Boiler issues are often attributed to mistakes made by operators who do not have proper training. This often results in them either damaging a boiler or disabling a safety device.  
Second, it is important to have a regular maintenance schedule in place. Years of neglected maintenance is another common cause of boiler explosions. A qualified contractor can ensure all safety devices are operating appropriately.
Third, have regular operator training and protocols in place to prevent an explosion. Trained operators will dramatically improve the efficiency, longevity, and safety of boilers.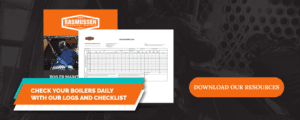 Recent Examples
Processing Plant Explosion
Citrus Plant Boiler Explosion
Have Questions?
Be sure to follow the manufacturers recommendations for maintenance to ensure your boiler system runs as efficiently as possible. If you need help with your boiler, reach out for a free estimate, call us at 1-800-237-3141 or chat with an agent. Our team is here to help!