We offer a number of different boiler rental options including, trailer mounted, skid mounted and mobile boiler rooms. So, what makes a boiler room rental a good option?
Before we cover the advantages of a portable boiler room, lets discuss what is inside a typical unit.
CALL 24/7 TO GET AN EMERGENCY BOILER RENTAL: 1-800-237-3141
What's In A Portable Boiler Room?
We hope it is obvious that their is an ASME certified boiler inside, but what other equipment can you find in a unit? A boiler room rental can include:
Low Emission Burner

Burner Controls System

Safety Devices

Water Treatment System

Feedwater Storage or Deaerator

Duplex Water Softener

Fuel Storage

Mechanical Piping

Utility Connections on Exterior Of Unit

Blowdown Tank
Boiler Room Rental Benefits 
Speed
Because of their design, boiler room rentals can be transported and installed much faster than other rental options. The boiler room requires no cranes to transport and no pads or foundations on the jobsite, which makes them ideal for quick installation.
Everything on in a portable boiler room is pre-piped with connections places on the exterior of the unit. This makes hooking up the piping much easier during an emergency situation. Portable boiler room rentals are one of the easiest ways to minimize downtime and can provide a short-term solution to meet steam demand.
Weatherproof
Boiler room rentals have the added benefit of being weather proof. Because they are inside a structure, they can handle the elements without a need for building an enclosure like other rental options.
Flexible Fuel
Similar to traditional burners, the burners in boiler room rentals are able to be fired on a wide range of fuels. The most common fuels are Natural Gas, Propane, and #2 fuel oil. This provides flexibility to adapt to the fuel source that is most readily available on site.
The Total Package
When an outage effects more than the boiler, a portable boiler room can become your only option to get back up and running. Because auxiliary equipment is included, you can bypass auxiliary equipment that may have been effected during an outage.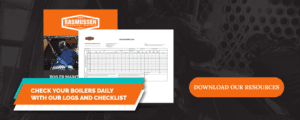 Hook Up Requirements
Portable boiler room rentals are easier to hook up than other rental options. But what does a portable boiler room need to be up and running?
First, it needs water. Because water treatment systems are built in, the unit can be hooked up to city water in some applications.
Second, the system must have a fuel source for the burner. As mentioned above this could include Natural Gas, Propane, #2 fuel oil or something similar .
Third, their must power supplied to the mobile boiler for the control systems.
Contingency Piping
One way to increase the speed at which a rental boiler can be hooked up to you facility is to install contingency piping. This piping runs from your boiler room to an area where we can quickly hook up our rental boiler. During an emergency this can take downtime from a week down to as little as two days.
We will generally hard pipe one line for steam, one for natural gas, one for feed water and one for blowdown. This way, when the rental boiler pulls up in an emergency, its as quick and easy to connect the hard piping.
Our Rental Department
Regardless of your steam needs Rasmussen Mechanical has you covered. Whether you need a rental boiler for an unexpected shutdown, planned maintenance or just need little extra steam for your process. We design and assemble our portable boiler rooms in house so we can meet customer demands. From delivery to startup, we can do it all.
Our business is open 24/7 so regardless of the time or day, we can help get you back online when you need it most. Our rentals include various sizes of commercial and industrial boilers along with auxiliary equipment. We offer:
Mobile Boiler Room Rentals

Trailer Mounted Boiler Rentals

Skid Mounted Boiler Rentals
We offer state-of-the-art boiler technology with each rental and all of our boilers meet ASME guidelines. Whether you are looking for a permeant boiler system or just need some temporary steam, our team can help.
Why RasMech Rentals?
When you work with Rasmussen Mechanical you are working with a family owned business who has been helping customers for over 50 years. Our rental boilers are used all over the continental United States and include installation, startup and maintenance.
Our rental boilers can provide steam or hot water at high and low pressure to meet facility demand. With firetube boilers ranging from 20HP to 1,500 HP and watertube boilers from 30,000 to 120,000 PPH. We also have vertical tubeless options available and other hot water applications.