A burner is a key component in ensuring the overall efficiency of your boiler system. As burners age, moving parts begin to wear out and this can cause the air to fuel ratio to fluctuate outside desired parameters. This fluctuation results in reduced efficiency and higher operation costs. As old components wear out, maintenance costs rise and burner retrofits are often a more cost-effective option than replacing the entire boiler system.  
By retrofitting a new burner, it is not uncommon to see reduced fuel usage of 5 to 10 percent. This is in large part due to higher turndown capability and the more stringent emissions regulations modern burners must meet. After all, burners are the major driver of fuel usage costs in a boiler room.
Why Retrofit A Burner?
Increased Operating Efficiency
As your burner wears over the years, it tends to lose the ability to produce proper flow of air-to-fuel ratio consistently. This is generally due to the wear and tear on old parts. Often this results in wasted fuel, unnecessary burn cycles and higher power bills. Worse yet, it sometimes results in a sooty flame that produces Carbon Monoxide and fouls the boiler.
Burner retrofits offer lower excess air and advanced controls that allow users to determine how the boiler will run (Lead-lag, auto, etc.). You'll see an overall improvement in operating efficiency, reducing the need for maintenance and repair.
Lower Fuel Costs
Minimizing fuel waste can save your company a considerable amount of money. When boiler performance is optimized, you can see remarkable savings in your energy and fuel.
Safety
New control systems can monitor more parts of your boiler as it operates and can prevent unsafe conditions. For example, a sooty boiler has an unburned fuel (the soot) that can ignite creating a dangerous situation. Modern burners and controls can prevent soot build-up and monitor air to fuel ratios.
Real World Burner Retrofits
Boyer Valley
This project included removal of an old Gordon Piatt burner from a 400 HP Kewanee boiler. This involved removing the burner mounting plate, refractory cone, gas train, tallow pump, tallow fuel train, atomizing air compressor and burner panel.
A new Webster JB series natural gas burner with Autoflame Mini Mk8 controls was installed to replace the old system. This also involved installing a new gas train, pilot train, remote burner control panel, burner mounting plate, refractory cone and new wire to boiler trim.
Wire Co
Rasmussen Mechanical Services retrofit two (2) 300Bhp Power Flame Burners with Limpsfield LCN36 Burners and Mini MK8 Controls with a Variable Speed Drive.
The burners were replaced one at a time. Burner installation, wiring, commissioning and testing was complete in under one week.  The maintenance staff was trained by RMS' Burner Services Technicians on proper operation, maintenance, and troubleshooting practices. ROI was less than 1.5 years and burner had 3% O2 emissions. 
An unexpected benefit of the retrofit is how quiet the Limpsfield Burners operate. The difference in sounds was so noticeable, that when the maintenance personnel entered the boiler room they thought the burners had tripped off. 
Processing Plant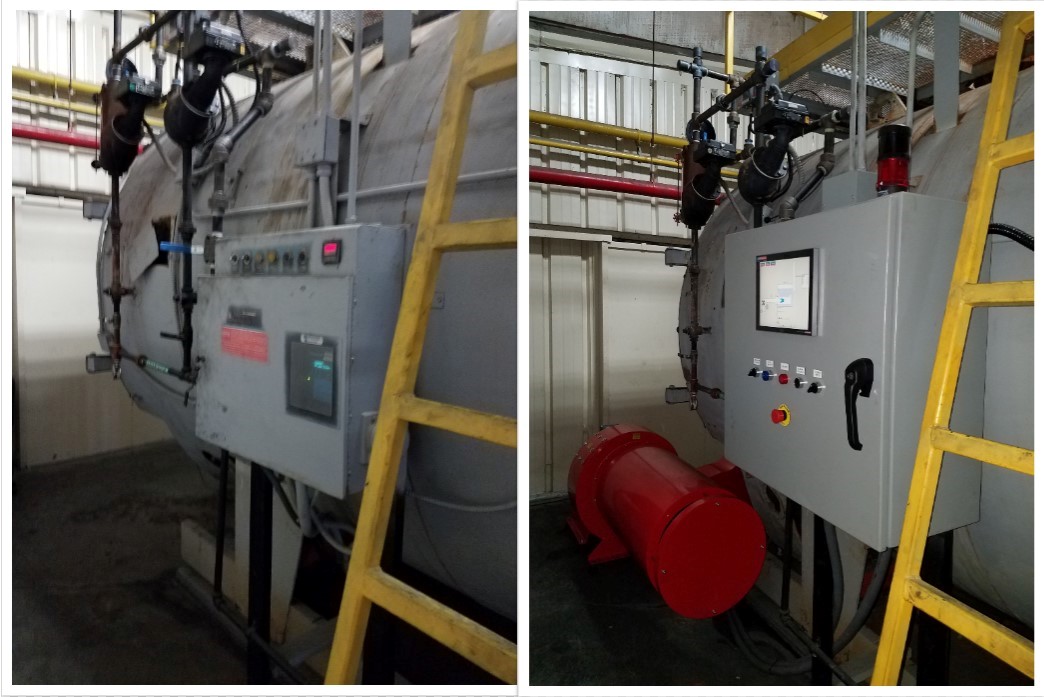 Before and After: New Limpsfield Burner, Autoflame Control Panel, Blow Down Piping and Gas Train.
Commercial Facility
Before and After: New Limpsfield burner with Autoflame controls and a variable frequency drive to help with motor efficiency and combustion.
In Summary
Plugged nozzles, gas orifices and deterioration of combustion head components that are responsible for mixing air-to-fuel properly, can degrade burner efficiency with age. Burner retrofits can improve efficiencies without replacing the entire boiler system.