Lab Safety Services
Lab Certification, Validation, & Repair
Achieve Worry-Free Lab Safety
Through BalCon, Rasmussen Mechanical Services Lab Safety Division has been ensuring the safety of people, equipment, and lab environments for over 25 years. Our team has become the leader in comprehensive testing and certification. We help you meet and exceed all national standards with our industry-leading service, maintenance and certification.
Lab Repair Services
Our team of experts can help you get back up and running when disaster strikes! With 24/7 service, Balcon is the first choice for emergency repairs. We repair:
Aseptic Compounding Isolators

Laminar Flow Work Stations

Biological Safety Cabinets

H.E.P.A. Filtration Systems

Critical Air Controls

Clean Rooms

Fume Hoods
Environmental Services
We provide clean room validation, decontamination, and H.E.P.A. filter replacements as well as work within fume hood and laboratory control systems. Testing, calibrating and certifying your lab equipment is something our Lab Safety Department has done for over 25 years. Our services include:
Critical Air Controls Service, Repair and Installation

Lab and Clean-room Validation and Testing

USP 797/800 Compliance for Pharmacies

Validation of Safety Standards

Improvement of Lab Efficiencies

ASHRAE 110 Certifications

Equipment/Facility Decontamination

Certification, Calibrations and Performance Verification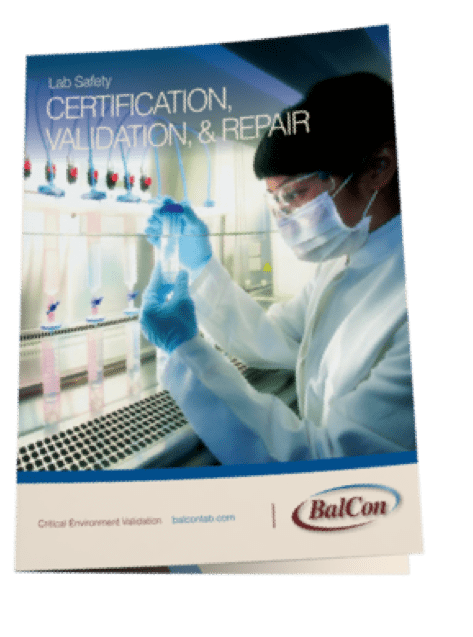 Lab Safety Brochure
Download our lab safety services brochure to learn how Rasmussen Mechanical Services can help you ensure the safety of your workers and facility.
CUSTOM LAB SAFETY SOLUTIONS
The Rasmussen Mechanical Services lab safety group designs custom programs, so you receive the perfect fit for your lab environment needs. We commonly provide:
College Laboratory Service and Certification

Pharmacutical Laboratory Service and Certification

Hospital Labortaory Service and Certification

Food Production Laboratory Service and Certification

Animal Laboratories Service and Certification

Ethanol Lab Service and Certification
Certifications
For 25 years our team has helped to ensure labs get the care they need. Our qualifications include:
USP-797 Compounding Compliance

NSF Accredited Biosafety Cabinet Certifiers

ASHRAE 110 Certifications

BSL-3 Certification

Fume Hood and Laboratory Control Systems

Antec Controls Certified

Phoenix Controls Certified

Accutrol Controls Certified

Aircuity Certified
See the Service in Action
Questions?
Have lab safety questions and want to get answers from the experts? Reach out and we would be happy to help. We commonly get asked questions about:
Chemical Safety

Containment Storage

Personal Protective Equipment (PPE)

Pull Box Operation and Installation

Hazardous Material Labeling

Equipment Inspections

Needles and Syringe Disposal

Chemical Disposal

Toxic Fumes and Compressed Gas Cylinders

Protective Goggles, Face Shields and Chemically Resistant Clothing