Lab Safety Services
Lab Certification, Validation, & Repair
Achieve Worry-Free Lab Safety
Through BalCon, Rasmussen Mechanical Services Lab Safety Division has over 15 years of experience, ensuring the safety of people and equipment within lab environments. We help you meet and exceed all national standards with our industry-leading, comprehensive fume hoods, and biological safety cabinets testing and certification. Our team of experts can provide worry-free certification, warranty, and on-site repairs for:
Biological safety cabinets
Laminar glow workstations
Fume hoods
Aseptic compounding isolators
H.E.P.A. filtration systems
Clean rooms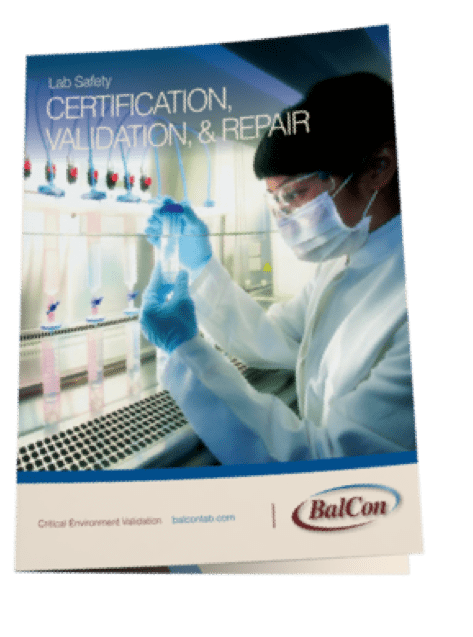 Lab Safety Brochure
Download our lab safety services brochure to learn how Rasmussen Mechanical Services can help you ensure the safety of your workers and facility.
Custom Lab Solutions
The Rasmussen Mechanical Services lab safety group designs custom programs, so you receive the perfect fit for your lab environment needs. We can provide cleanroom validation, decontaminations, and H.E.P.A. filter replacements as well as work within fume hood and laboratory control systems. When problems arise, our lab inspection and on-site repair services can quickly and efficiently bring your lab back to the design and productivity your facility deserves. Our qualifications include:
USP-797 Compounding Compliance
NSF Accredited Biosafety Cabinet Certifiers
Fume Hood and Laboratory Control Systems
ASHRAE 110 Certification
BSL-3 Certification
See the Service in Action