Commercial Air Compressors:
Everything You Need to Know
The Ins and Outs of Compressed Air Systems
From plants to hospitals, compressed air is a vital component for many facilities. Whether the air is supplying construction equipment in a new build or the air to an infant in the NICU, the system uses the same parts to produce virtually the same product: compressed air.
Intake pipes suck up ambient air to filter through the system to be purified.

Multi-System Piping allows you can close-off the mechanism in case of situations like maintenance or removal.

Multiplex Systems are in place to sustain the capacity level or become a backup in case one compressor fails

Valves, including the isolation valve, pressure-relief valve, and discharge-line valve, handle air supplies at peak levels.

Compressed air moves to its final destination.
How To Analyze Your Compressed Air System
Did you know the generation of compressed air accounts for up to 40% of a plant's total electrical bill? That's one hefty expense! Use our worksheet to Analyze Your Compressed Air System and set up an action plan to become more efficient.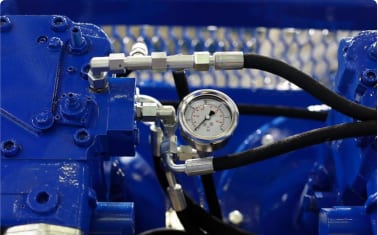 Quick Tip:
Moisture is in the air. Whether you notice them or not, tiny droplets find their way across your facility and end up in your compressed air system. Use proper maintenance and planning to remove and prevent condensate.
Get Your Compressed Air Systems in Shape
The term shutdown often has a negative connotation. However, when done right, a shutdown can prove to be an essential component of your plant's longevity and can increase profit margins going forward.
During your next scheduled shutdown, don't forget to look at your compressed air systems. The expert technicians at Rasmussen Mechanical Services have put together a simple shutdown plan for you:
Perform routine maintenance

Inspect dryers

Check the distribution system

Add a tie-in connection

Stock up on spare essentials
Preventative Maintenance: Compressed Air
Compressed air systems require regular maintenance. Those who overlook consistent care of their systems incur higher energy, repair, and replacement costs, yet this not-so-foreign concept is often underestimated. The cost of an excecllent preventative maintenance program will be less than the costly expenses of air compressor repairs and unplanned outages. Discover the best cost-effective tips to keep compressed air systems up and running efficiently and affordably.
Air Compressors For Rent and Sale
Renting air compressors has become a regular business. With annual sales of $855 million, the North American air compressor rental industry is forecasted to grow annually at a rate of 3.4%. Discover four reasons to rent industrial air compressor equipment.
Rasmussen Mechanical Services houses a large selection of air compressors for rent and sale. Plus, with our 24-hour emergency services, we'll be able to provide you with the item you need to keep your facility running at a moment's notice when emergency strikes.
Industrial Air Services
Rasmussen Mechanical Services will perform comprehensive surveys on your compressed air, vacuum, or blower systems to help identify what products and services will work best for you. Our dedication to meeting your needs with unparalleled expertise, design, and service is at an all-time high.
The experts at Rasmussen Mechanical Services are happy to be your single-source provider. From industrial air to heating and more, let us know how we can help. Give us a call at 1-800-237-3141 or fill out our contact form, and we will be in touch.