Boiler Repair & Code Services
Quality Repair & Pressure Vessel Maintenance
ALL THINGS BOILER  
Rasmussen Mechanical Services' Industrial Boiler Repair and Code Services Department has delivered quality services and repairs to customers for decades. We began as CG Johnson Boiler Company in 1915 and continue to provide code welding, re-tubing, refractory, and burner services. Our team provides:
Boiler tube replacement and repair
Partial or complete water leg and stay bolt replacement
Tubesheet/furnace repair or replacement
Shell, drum, and header repair
Vessel nozzles and openings installation/replacement
ASME pressure vessel and power piping fabrication
Refractory repair/replacement
Non-destructive examination and integrity analysis
Heat exchanger, economizer, chiller, and non-fired vessel repair/replacement
Annual inspection assistance
Section I, IV, or VIII Alterations
HRSG tube repair and service
Boiler Tube Repair And Code Services
From leaking tubes to cracked tube sheets, we have technicians who can get the job done right the first time. We work on all types of boilers from watertube, to firetube, to condensing, and everything in between. We hold R, S, H, U, and PP stamps to ensure we can perform an array of American Society of Mechanical Engineers (ASME) repairs.
Refractory Repair And Replacement
Refractory has to withstand tremendous heat and pressure, which causes it to break down over time. Some common signs of failure are fractured tiles, boiler hot spots and difficulty closing boiler doors. Our boiler repair technicians can repair and replace brick, tile, castables or gunning mixes and more.
Boiler Maintenance Programs
Our expert boiler technicians have been helping to prevent unplanned downtime for over 100 years. We can keep your boiler running safely and efficiently. Whether you need waterside and fireside cleaning, annual inspection assistance, hydro tests, bubble testing or anything in between, we have you covered. Any good boiler maintenance program should also include burner tuning and safety device testing. Our team can adjust linkage settings, fuel pressures and control settings to get your boiler operating effectively.
Boiler Auxiliary Equipment
From deaerators to blowdown heat recovery systems, circulator pumps and more, we repair it all. We can replace valves, combustion systems, steam traps and everything in between. We partner with equipment manufacturers across the world so we can bring you the best equipment at the best price.
Boiler Installation And Sales
Selecting the right contractor can make all the difference when it comes to a successful installation. Our expert team is here to ensure you get the right boiler for the job.
Boiler Parts
With over 10,000 parts in stock and access to dealers across the globe, we have the parts you need, when you need them.
Boilers For Rent
Our large inventory of commercial and industrial boiler rentals can be ready on a moment's notice and ship anywhere in the continental United States! We carry a large variety of sizes and brands to ensure we have what you need when you need it.
See the Service in Action
Why RasMech Boiler Repair?
Our extensive experience coupled with our unwavering commitment to delivering quality services, makes us the go-to choice for all your boiler repair needs.
Whether you're dealing with leaking tubes, cracked tube sheets, refractory failures, or issues with auxiliary equipment, our skilled technicians can help. With our comprehensive knowledge and adherence to the American Society of Mechanical Engineers (ASME) codes, we can tackle any repair with precision and efficiency.
Our vast inventory of boiler parts, coupled with our global network of dealers, ensures we can promptly source the components needed for your repairs. By choosing us, you can have peace of mind knowing that your boiler is in capable hands. Our team always provides top-notch service and solutions tailored to your specific equipment.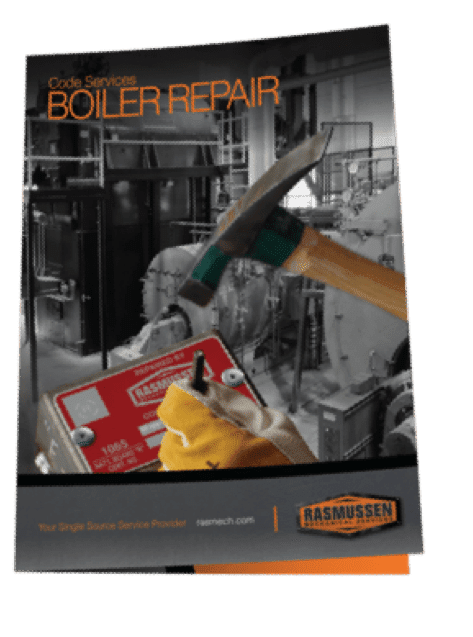 Industrial Boiler Services Brochure
Download our brochure to learn how Rasmussen Mechanical Services' certifications and expertise in boiler repair and code services can help your facility reduce waste.
Check Out The Latest Posts From Our Blog
One of the easiest ways for a business to reduce operating expenses is to increase boiler efficiency. A great place to start lowering your bills is to look at how recently you performed boiler maintenance and how efficient your commercial boiler is. The boiler draws in cool air, heats it up, and sends it out the stack. A lower stack gas temperature is ideal because the higher the temperature, the more energy leaves with the flue gas.
It's important to understand how your boiler feed water system functions, especially when trying to extend the useful life of your equipment. Low-quality boiler feed water contains impurities and gases that can damage the whole system. This will lead to a reduction in efficiency and, even worse, boiler leaks or system leaks.
A condensing boiler is a water heating system designed to retrieve energy normally released from the boiler stack as waste. Latent heat is a significant source of energy. This means condensing boilers can potentially hold an efficiency rating of up to 98% in some cases. By comparison, a traditional boiler is generally between 70-85%.