Boiler Repair & Code Services
Quality Repair & Pressure Vessel Maintenance
Meet Standards, Surpass Expectations
Rasmussen Mechanical Services' Boiler Repair and Code Services Division has delivered quality services and repairs to customers for decades. We began as CG Johnson Boiler Company in 1915 and continue to provide code welding, retubing, refractory, and burner service for the institutional and industrial market. We hold R, S, H, U, and PP stamps and employ expert certified welders to ensure we can perform an array of American Society of Mechanical Engineers (ASME) Code Services and National Board Inspection Code (NBIC) repairs. Our team provides:
Boiler tube replacement and repair
Partial or complete water leg and stay bolt replacement
Tubesheet/furnace repair or replacement
Shell, drum, and header repair
Vessel nozzles and openings installation/replacement
ASME pressure vessel and power piping fabrication
Refractory repair/replacement
Non-destructive examination and integrity analysis
Heat exchanger, economizer, chiller, and non-fired vessel repair/replacement
Annual inspection assistance
Section I, IV, or VIII Alterations
We Focus on Your Savings
Our clients are our family, which means we want to see you save. Boiler and pressure vessel maintenance is pivotal in reducing waste and operating costs. With our services, you receive:
Reduced unscheduled downtime
Increased steam system efficiency
24/7 Emergency response
Supplemental boiler operator training
Fully code compliant services and repairs
Boiler inspection assistance
Want to become a boiler expert? We have everything you need to know here!
See the Service in Action
Project Spotlight: Everett Elementary School
Read how Rasmussen Mechanical Services completed a boiler repair for Everett Elementary School.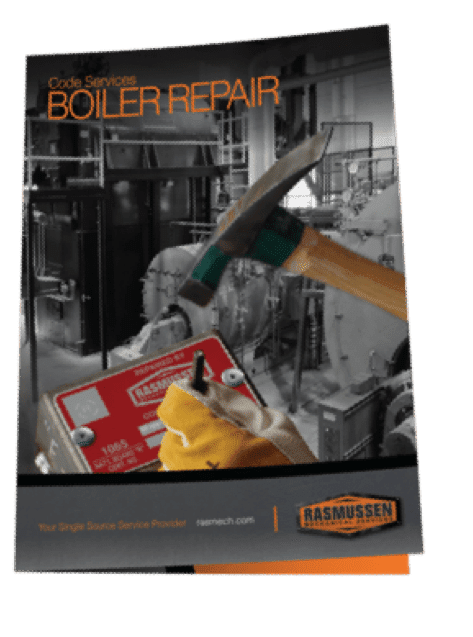 Boiler Repair Brochure
Download our brochure to learn how Rasmussen Mechanical Services' certifications and expertise in boiler repair and code services can help your facility reduce waste.