Industrial Air Compressor Maintenance: What You Need To Know
Industrial Air Compressor Maintenance Basics
From manufacturing plants to hospitals, compressed air is a vital component for many facilities. Whether it is supplying air to construction equipment or to an infant in the NICU, it is essential to take care of your system. Begin by doing the following checks:
Visually Inspect Air Compressor

Check and Log Drive Motor Bearing Temps

Check and Log Fan Motor Bearing Temps

Inspect Coupler, Hub and Shaft Seal

Check and Log Oil Cooler Temps

Check and Log After Cooler Temps

Inspect Scavenge Line Check Valve

Check Drive Belt condition if applicable

Log load and unload pressure settings

Check moisture trap or auto drain

Perform An Oil Sample Analysis

Change Oil Filter

Blow Out Coolers

Change Air Filter

Change Oil/Water Separator

Check and log ambient condition

Change Oil Separator O-Ring if necessary

Change Oil if necessary
Quick Tip:
Did you know? On a typical summer day of 80℉ (21℃) and 70% relative humidity, approximately 19.5 gallons (73.8 liters) of water enters a 100 scfm (170 nm3/hr) system in a 24-hour period. Use proper maintenance and planning to remove and prevent condensate.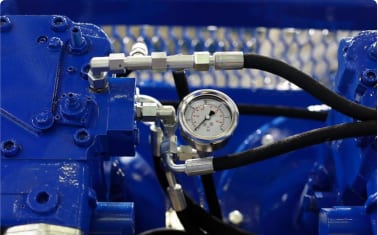 Logging Maintenance Activity
We recommend including the following:
Name of who performed service:

Model #

Serial #

Hours

Horse Power

Motor Amps @

Nameplate Amps

A/E Discharge Temp

Drive motor bearing temps (Drive end bearings / non-drive end bearings)

Fan Motor Bearing Temps (Drive end bearings / non-drive end bearings)

Oil Cooler Temps (In and Out) / Cooling water Temps (In and Out)

After Cooler Temps (In and Out) / Cooling water Temps (In and Out)

Drive Belt Condition, Tension and Alignment
Inspect Coupler (Hubs and Shaft seal)

Oil Type/ Brand

Hours On Oil and Oil Sample Date

Air Filter Changed Date / Hours

Oil Filter Changed Date / Due Date / Hours On Filter

Air/Oil Separator (Changed / Hours and if reused or replaced)

Oil Differential Pressure

Scavenge Line / Check Valve (Inspected / Replaced)

Pressure Settings (Load Pressure / Unload Pressure)

Moisture Trap (auto Drain / Condensate treatment)

Blow Out Coolers (Yes / No)

Remarks

Ambient Conditions
11 Compressor Maintenance Musts
1. KEEP AIR COMPRESSOR INTERCOOLER'S CLEAN
2. KEEP AIR COMPRESSOR AFTERCOOLER'S CLEAN
3. ENSURE AIR COMPRESSOR OIL COOLER IS WORKING PROPERLY
4. TEST COMPRESSOR OIL
5. CHANGE COMPRESSOR INLET AIR FILTER AND MONITOR PRESSURE
6. CHECK FOR CLOGGED TRAPS OR STUCK OPEN VALVES
7. TEST COMPRESSED AIR DRAINS AND DROPS
8. CHANGE THE INLINE AIR FILTERS
9. MAKE SURE THERE IS NO WATER IN THE SYSTEM
10. CLEAN CONDENSING COILS IN YOUR REFRIGERATED DRYER
11. TEST DESICCANT DRYER AND DEW POINT
FINDING AND FIXING AIR COMPRESSOR LEAKS
According to the Compressed Air & Gas Institute, a ¼-inch leak in a compressed air line can cost between $2,500 and $8,000/yr. The scary part is, you may not even know you have one.
A simple walkthrough with a pair of good ears may detect some major leaks. 
Specialized equipment and a skilled technician should be deployed for reliable compressed air leak identification, especially in loud environments. Ultrasonic leak detection devices are the best tool to recognize compressed air leaks.
Leaks most commonly occur at the following locations:
Couplings

Hoses

Tubes

Fittings

Pipe Joints

Quick Disconnects

FRLs (filter, regulator, lubricator)

Condensate Traps

Valves

Flanges

Packing

Thread Sealant

Point-Of-Use Devices
10 AIR COMPRESSOR PARTS AND ACCESSORIES TO KEEP ON HAND
Do you know what air compressor parts and accessories you should carry to get yourself out of a bind? If a critical component of your system fails are you prepared with a replacement part?
1. PANEL FILTERS
2. OIL FILTER
3. OIL
4. INLINE CHECK VALUES
5 & 6. INLET VALVE OPEN AND INLET VALVE CLOSE
7. CONTROL AIR VALUES
8. DONUT GASKETS
9. INLET AIR FILTERS
10. MINIMUM PRESSURE CHECK VALVE REBUILD KIT
Quick Tip:
The Federal Government states that the oil level should not exceed 40 parts per million (ppm) in wastewater directed into the sewer.
The average air compressor condensate contains well over that amount at 300 ppm of oil. That is why it's essential to have an oil separator in place. Staying in regulation and cleaning up the environment should be top of mind for every facility.
REMOVING CONDENSATE FROM YOUR AIR SYSTEM
Using compressed air dryers is a common method for removing moisture. There are 5 techniques for removing moisture from compressed air: (Source: The Compressed Air Blog)
Cooling plus separation

 is exactly how it sounds. The hot compressed air is cooled, which allows a large amount of water to condense. Once the water is condensed, it can then be separated from the air.

Over-compression

 involves the compression of air to a higher pressure than the intended working pressure. After separation, the air is allowed to expand to the working pressure so it can be used in the intended process.

Membrane drying

uses the process of selective permeation of the gas components in the air to separate the water vapor out of your system.

Absorption drying

 is a chemical process in which water vapor is bound to an absorption material such as sodium chloride or sulfuric acid.

Adsorption drying

 involves the flow of moist air over a hygroscopic material or "desiccant" to be dried. Typical materials used are silica gel, molecular sieves, and activated alumina.
Air Compressor Contingency Planning
When it comes to air compressors, there are two significant benefits to contingency piping. Not only can it help you get by in an emergency, but it can also help us service your equipment for less.
So, what does the process look like? It's as easy as adding a tap that allows us to hook up a portable unit.
In an emergency, we can hook up to the tap with a portable diesel air compressor for short periods. In more extended periods we can use a portable electric air compressor. This saves valuable production time and can get your operations back online fast.
In non-emergency situations, like servicing the unit, the tap allows us to hook up a portable unit and bypass your air compressor. We can do this all while keeping your operations online, which means we can complete service during regular business hours. This is much less expensive than paying overtime to service the units after hours. It also prevents you from making the costly mistake of skipping service because the units can't be down.
Following these industrial air compressor maintenance steps will help you save money on emergency repairs, lower energy costs and avoid downtime. Not to mention it will increase the life span and efficiency of your system.