Commercial Boiler Repair And Service
Meet Standards, Surpass Expectations
Rasmussen Mechanical Services' Commercial Boiler Repair and Service Division has delivered quality services and repairs to customers for decades. We began as CG Johnson Boiler Company in 1915 and continue to provide code welding, retubing, refractory, and burner service for the institutional and industrial market. We hold R, S, H, U, and PP stamps and employ expert certified welders. This ensures we can perform an array of American Society of Mechanical Engineers (ASME) Code Services and National Board Inspection Code (NBIC) repairs. Our team provides:
Boiler tube replacement and repair

Partial or complete water leg and stay bolt replacement

Tubesheet/furnace repair or replacement

Shell, drum, and header repair

Vessel nozzles and openings installation/replacement

ASME pressure vessel and power piping fabrication

Refractory repair/replacement

Non-destructive examination and integrity analysis

Heat exchanger, economizer, chiller, and non-fired vessel repair/replacement

Controls inspection and repair

Annual inspection assistance

Section I, IV, or VIII Alterations

HRSG tube repair and service
Burner Services
Safety device testing

Process industrial burner services

Flame safeguard services

Emissions monitoring

Certified Opacity Testing

Extensive parts inventory

Code compliance

Combustion analysis and adjustments to air-to-fuel ratios

Parallel positioning and ageless controls

O2 Trim

Fully metered, cross-limited combustion controls

Fuel conversions (natural gas, oil, propane, methane, tallow)
See the Service in Action
We Focus on Your Savings
Our clients are our family, which means we want to see you save. Boiler/pressure vessel maintenance is pivotal in reducing waste and operating costs. With our services, you receive:
Reduced unscheduled downtime
Increased steam system efficiency
24/7 Emergency response
Supplemental boiler operator training
Fully code compliant services and repairs
Boiler inspection assistance
Want to become a boiler expert? We have everything you need to know here!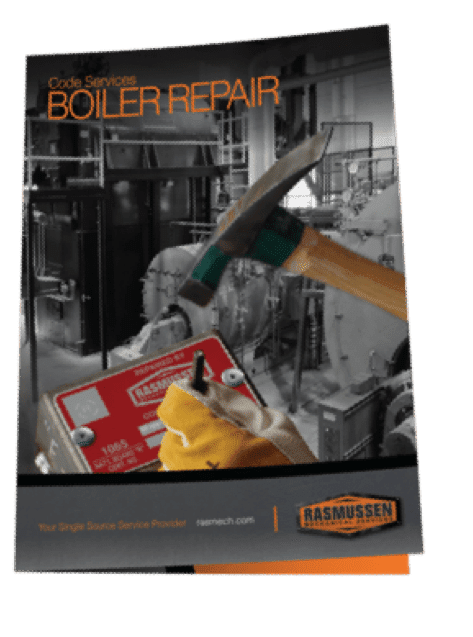 Boiler Repair Brochure
A boiler system is a central heating unit that uses a closed vessel to heat water to a certain temperature and circulates it throughout the building. Download our boiler repair brochure to see how we can help yours.
MORE THAN JUST COMMERCIAL BOILER REPAIR
From boiler parts and boiler rentals to new installation and everything in between. We have the expertise and resources to ensure the job gets done right the first time. We commonly perform service, repair or installation on brands like:
Cleaver Brooks

Autoflame

Limpsfield

Superior Boiler

Power Flame

Weil McClain

Weishaupt

Fireye

Hurst

Kewanee

Johnson

Everlasting
ABCO

Warrick

Grundfos

Hoffman

Bell & Gossett

McDonnell & Miller

Armstrong

Spence

Kunkle

Apollo

Ashcroft

Miljoco
Watson McDaniel

Topog – E

Tasco

United Brass

Fisher

Sensus

Maxitrol

Dungs

Maxon

Eclipse

Spirax Sarco

And More!
See What Our Customers Are Saying
Rasmussen became my "one stop shop" for ALL my boiler needs. All I had to do was call and explain what was going on and then sit back. Parts were ordered in a timely fashion and Techs arrived when they said they would. Work was always done quickly and second to none! Great feeling knowing I have a company that has my back and has proven it over and over for the past 21 years.

Dail DailingUtilities Manager, Dakota Ethanol

We needed (help with) mechanical projects; welding, boiler, steam, condensate, compressed air, in different areas around our plant.  Rasmussen Mechanical Services helped us evaluate our options and save us a lot of time and money to get back on line – ASAP.

Matt StrysonPlant Engineer, Hughes Brothers Inc.

I wouldn't recommend anyone else… We had issues that other technicians couldn't get to the bottom of so Rasmussen came in and did the repair work and followed up with preventive maintenance.

Pete McNealCouncil Bluffs Community School District

We get all of our help from Rasmussen. I can call on the phone and talk with somebody and they are local.

Roger GrimmHoward County Med Center

Rasmussen Mechanical is a key partner in our school district's efforts to maintain effective and efficient mechanical systems.

Jeremy ChristiansenSuperintendent, Laurel – Concord – Coleridge Schools

You were by far the best outside contracting crew we have ever had the opportunity to work with. The knowledge and expertise was superior. Your guys did an outstanding job replacing our boiler's burners.

James RuckerMaintenance Supervisor, WireCo

Rasmussen does the job right the first time.

Steve FeautoMaintenance Custodial Supervisor, Riverside Elementary, Oakland, IA

I've worked in facilities all my life, for 35 years. I would recommend Rasmussen Mechanical because of their outstanding service and reliability... If my boilers break down I know who I'm going to call and who's going to show up.

David McAteeDirector of Operations, Boystown National Research Hospital, Omaha, NE

I would recommend them to work with other people just based on the quality and craftsmanship of their work. We went from 75%-80% efficient to 92%-94% efficient. A 12%-15% gas savings for the plant.

Conrad BaldwinFacilities Utility Planner, Kelloggs, Omaha, NE

They've done a tremendous job for us. Not only are they there to do a job, but they can break it down to layman's terms, so that as an operator, I can practice what they teach me. We've learned from their experience so it's kind of a win-win for all of us.

Robert StilesUtility Technician, Mars Petcare, Aurora, NE

They do more than what's expected and we have one contact we can call for many different services.

John NikkilaUtility Technician, West Pharmaceuticals, Kearney, NE

After the first boiler, we were so pleased with their service and quality that the second one was a no brainer.

Bruce GregersenUtility Technician, Riverside Lodge, Grand Island, NE