Industrial Air Compressor Services
Unparalleled Commercial and Industrial Air Compressor Services
Expert Technicians And Prompt Service
For over 50 years,  Rasmussen Mechanical Services has been serving the Midwest. Serving the industrial and commercial community, we specialize in servicing everything from small commercial units to complex industrial systems. We can perform maintenance, service and repairs on all brands of:
Screw Compressors
Oil Free Compressors
Rotary Compressors
High Pressure Compressors
Vertical Air Compressors
Tankless Air Compressors
Two Stage Air Compressors
Have questions? Fill out the form on the right and let us know what you are looking for and we will have someone on our compressor team get back with you.
Compressor Repairs And Maintenance
Preventative Maintenance, Emergency Repairs, Parts Sales and Installation; Regardless of your compressor brand, our service team, is expertly trained to handle your system. RMS can service your oil flooded, oil free, screw or reciprocating compressors.
Oil and filter changes
Air end replacement
Food or medical grade compressor air testing and certification
Oil analysis and ultrasonic leak detection
YOUR SINGLE SOURCE FOR ALL THINGS AIR
With over 200 technicians and 24/7 service, you can be sure we will get you taken care of fast. Make Rasmussen Mechanical your air compressor services provider. We also provide:
Commercial and Industrial Compressor Parts and Rentals

Commercial and Industrial Troubleshooting

Preventative And Predictive Maintenance Plans

Ultrasonic Leak Detection

Oil Analysis

Air Compressor System Audits

Air Treatment Programs

Financial Value Reports To Justify Program Costs

On-Site Training And Personnel Development
NECESSARY DOESN'T HAVE TO BE INEFFICIENT
Did you know generation of compressed industrial air can account for up to 40% of a plant's total electrical bill? The expense is critical but doesn't have to be so daunting. Our industrial air compressor services team will perform comprehensive surveys on your compressed air, vacuum, or blower systems to help lower energy costs. We're dedicated to meeting your needs with unparalleled expertise, design, and service.
Industrial Air Services Brochure
Download our brochure to see how Rasmussen Mechanical Services can eliminate waste and optimize your industrial air systems.
More Than Just Air Compressor Repair
With over 10,000 parts in stock we can get problems taken care of fast! Our large compressor rental fleet allows us to bypass system during maintenance and keep you operational. Our compressor rental fleet includes:
Variable And Fixed Speed Air Compressor Rentals

Gas Powered Air Compressor Rentals

Electric Powered Air Compressor Rentals

Oil Free Air Compressor Rentals

Emergency Air Compressor Rentals
Whether you're facing an unplanned shutdown or scheduled maintenance, our industrial air compressor services team is here to help.
Heat causes motors, bearings and oil to break down. It also makes the compressor do more work for the same volume of compressed air. Air compressors are heat rejection machines as roughly 95% of the energy an air compressor uses is rejected to the surroundings as heat!
If sharp angles are present throughout your piping system, this could severely impede the flow speed, resulting in reduced pressure. As air flow emerges from out of a bend, it often becomes turbulent.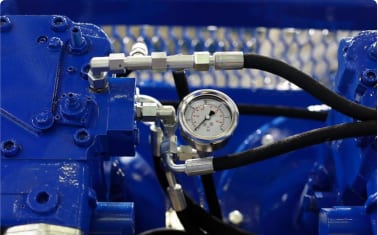 Identifying and quantifying the leak load is important when considering the entire effect of leaks on your system. Use a bleed down test to quantify the leakage rate of a whole system. Alternatively you can estimate leakage in systems if there is a pressure gauge downstream of the receiver.